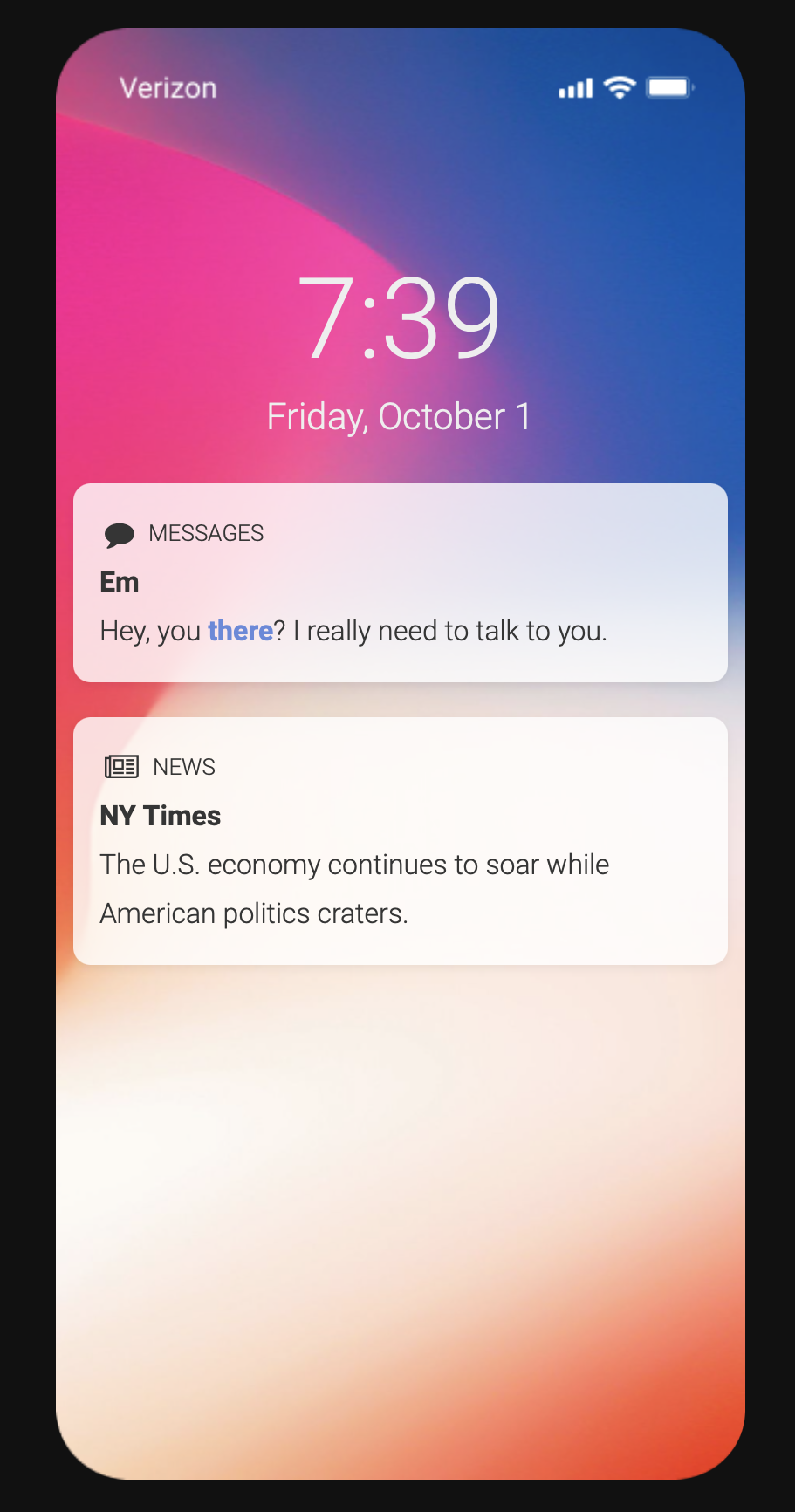 Link to Work: Link 1
Link to Video: Video
Age: Any Age 
Type: Interactive Fiction
Language: English
Platform: Twine

Mentor: Dr. Anne Sullivan

Mentee: Alexandra Teixeira Riggs

Short Description: Friday, October 1st critically examines our relationship with the news cycle, social media, isolation, and mindfulness by hinging on a simple game mechanic that invites the player to examine the narrator's deeper emotional state, while constantly navigating through a never-ending barrage of notifications. 

Longer Description: Friday, October 1st begins by presenting the player with a series of news and text notifications, recalling both the isolation and crush of mid-pandemic media. Within the recognizable image of a phone lock screen, the messages appear and continue unless the player clicks any of the text links embedded in the notifications. Clicking the text link will reveal a deeper narrative, one that begins to show the narrator's internal monologue — their struggles with anxiety, with isolation, and with their feelings of disconnection from an ex-partner, family members, and friends. However, the piece nevertheless comments on the distractions that mirror this disconnection: the sense of feeling constantly pulled back towards messages and notifications, by using a mechanic of changing hyperlinks that force the player to return to the phone screen. While exploring the narrator's inner monologue, the player can continue to complete mundane physical tasks, muse about their past relationship, or try to understand their anxiety, but as they move further into the narrator's inner story, links quickly change to variations on "check your phone," procedurally communicating the relatable cocktail of addiction, anxiety, and isolation felt in this instance. At the end of the story, the player has an opportunity to interrupt the narrative when they click into a friend's text message, urging them to "go outside." In doing so, the game effectively "breaks the fourth wall" by presenting the player with a mindfulness exercise, ultimately instructing the player to breathe, close their computer, and leave their screen. Thus the game's meta commentary imagines a solution in which a portrayal of social media / news addiction and isolation might be ameliorated by mindfulness, self-awareness, and a connection to bodily / physical experience.

Mentoring Context: This game was made as part of a class offered by Dr. Anne Sullivan at Georgia Institute of Technology called Computer as an Expressive Medium. Through critical making, the course taught students how to gain computational literacy and experience by applying critical perspectives to programming and prototyping as a creative practice; that is, to understand computation as an expressive medium. In the class, we created interactive fiction narratives, procedurally generated works, and physical computing prototypes as a way to examine how we express ourselves through digital media, the roles of both creator and technology in making, and the ways in which the creation and existence of digital media affect our culture, society, and environment. Ultimately, the course effectively juxtaposed reading and critical analysis with these interactive digital projects, designed to exercise specific technical skills as well as encourage conceptual explorations in computational art and design and what it means to "make with meaning".

Bios: Alexandra Teixeira Riggs (she / they) I am a PhD student in Digital Media at Georgia Tech, concentrating in queer media studies, critical making, and design justice. My work focuses on using interactive storytelling methods to explore both past and present notions of queer community, identity, and belonging. I combine both tangible and screen-based interfaces with design research to challenge dominant technologies and offer alternative relationalities in both on and offline space.